Pull ups are one of the most effective muscle-building exercise you could possibly do, all you need is your own body weight and you can do them almost anywhere, but what if you don't have the money or space to build a gym at home?
Then our Doorway Pull Up Bar is the perfect tool for you! Even if you are not the owner of the place where you live, you can still exercise without needing to screw a bar, paying for expensive tools or fearing to damage the doorway!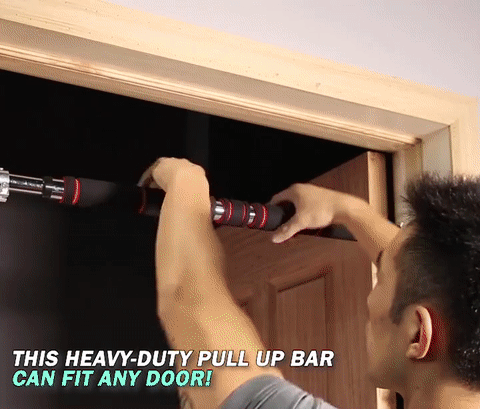 Made of slip-resistant foam: It's hard enough to do a pull-up, but doing a pull up while trying to prepare yourself for a possible fall is much worse. Unlike the regular pull-up bars, the Heavy-Duty Multi-Purpose Doorway Pull-up Bar is different.

It comes with thicker and larger silicon pads that increase slip-resistance and ensures stability. With this all-new anti-slip silicone pad, the heavier you are, the more friction that's generated and the more stable the bar will be. Moreover, it does not leave any mark spot on the surface ensuring that your door or wall looking as new as ever.

It is made from chrome-plated stainless steel: This pull-up bar consists of high-density retractable thread rods, housed by a chrome-plated stainless steel pipe. Thus, it is durable: won't bend and won't rust.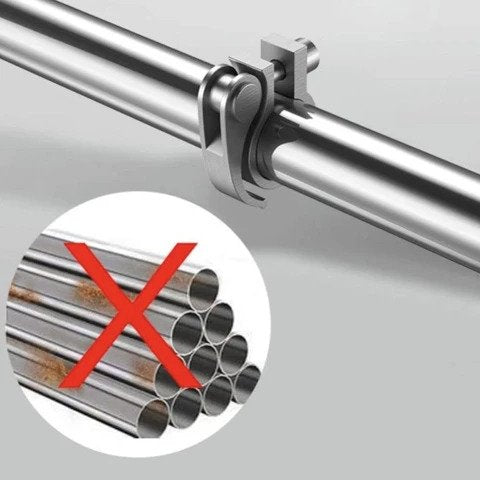 If you need a pull-up bar that doesn't need drilling holes in your walls and that you can effortlessly attach to your doorframe (or any solid opposing walls) and take down when you're done, this fitness workout bar is it!
Features:
Adjustable length. Can fit most doorways

Come in Length: 23"- 39" (60cm -100cm)

Support a maximum weight of 440lbs (200kg)

Diameter/Thickness: 30 mm/1.0 mm
Package includes

1 x Heavy-duty chrome steel doorway pull up bar
1 set of medium-duty door mounts
The Medium-duty door mounts is not must needed. If you want to be more secure and safe, you can choose to install and use the supplied screw-in door brackets. 

This bar is a real treasure for any fitness enthusiast!
It is easy on the hands, setting it up is as easy as pie, and it installs effortlessly. It also comes fully assembled and ready to install. Give every doorway in your home a new purpose with this tool that can turn every environment into a workout space. 
By setting it at different heights on your doorway, it can be used to perform pull-ups, sit-ups, push-ups, hanging leg raises, dips, chin-ups, crunches, and stretches. This portable piece of training equipment is so useful and inexpensive and you can use it without being afraid of falling off any longer. 
Traditional home pull-up bar requires drilling to install and often damage the door frames or walls eventually after some usage. You will eventually need to engage a professional renovation company to fix it which is cumbersome and costly. The doorway pull-up bar is uniquely designed to offer a safe workout and the convenience to install without putting any holes on your door frame or walls. This will prevent any damages and in turn save you money from a renovation.
Get your body in shape during this pandemic, especially your arms and shoulders!
SHIPPING INFORMATION
Domestic Shipping(USA): Your best doorway pull up bar will be packaged and shipped within 3 days of ordering. Our item is shipped from US warehouse. It may take them 3 to 15 days for the pull up bar to arrive after shipment.

International shipping: The best doorway pull up bar will be packaged and shipped within 5 days of order. We do ship worldwide! Please be patient and note that delivery times will vary depending on your location. Majority of the countries will have the best pull up bar delivered within 2 to 5 weeks!